With autumn set to bring a whole host of exciting mobilisations for climate justice, Karl Andreasson highlights some of the key campaigns in the coming months. From COP26 to actions against fossil fuel advertising, this autumn could be a major turning point in climate activity.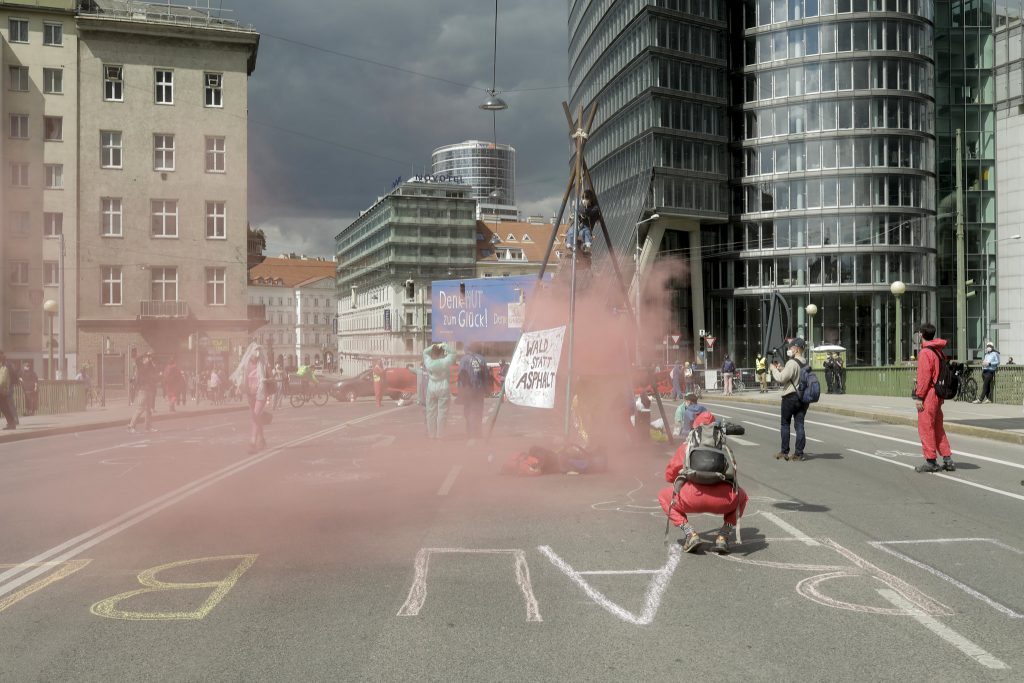 Back in August, a friend posted a meme that struck a chord with me. It read, "Someone asked me if I had plans for the fall, it took me a moment to realise they meant "autumn" and not the collapse of civilization."
Fires or floods, storms or droughts, recently every part of the world has been a textbook showcase of climate breakdown. These catastrophes have the potential to be a "trigger event" – something which shifts the window of opportunity to act on the problem and opens up the potential for change – if only our movements can seize it. Fortunately, this fall we are seeing a massive rise in action from movements, so to give an overview, this piece summarises some of the calls to action, connecting the dots, and hopefully also helps you map where you can put your energy in the coming months!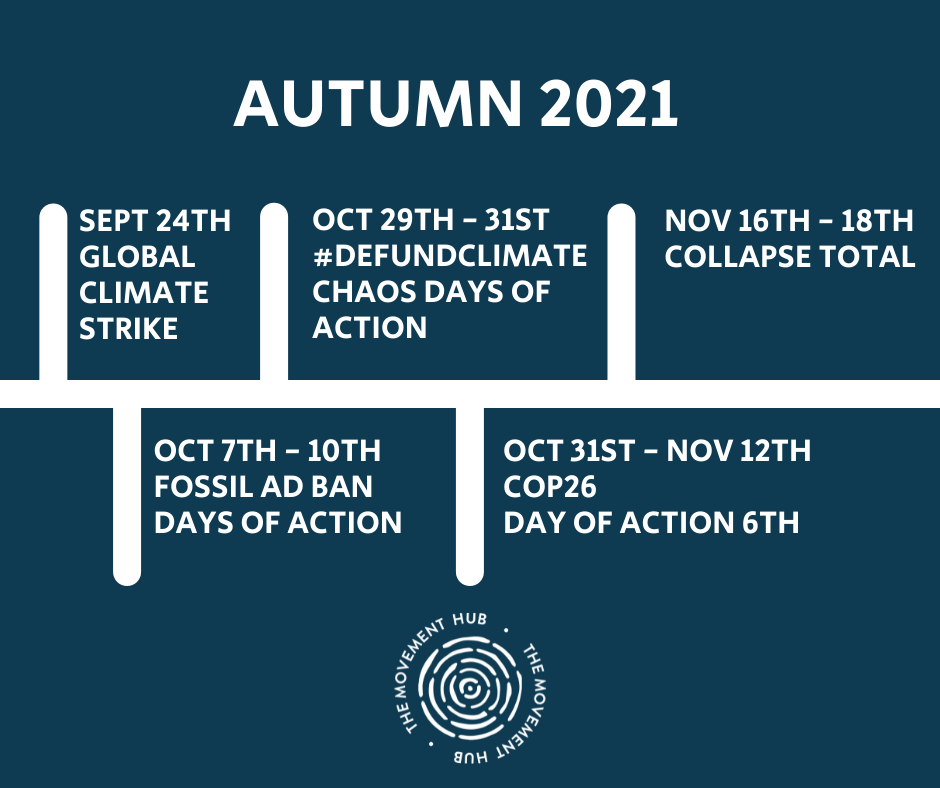 It began in summer with an upswing of mass mobilisations, such as the thousands of Indigenous activists gathering in Brazil for justice and protection, in the US as camps continue to oppose the Line 3 pipeline, and in Europe at Ende Gelände – whose wrap up video of the blockades of LNG harbours includes the iconic line "The open veins of Latin America and the Global South still flow through the canals of imperial Europe." Financial institutions were also targeted, with the occupations of financial centers in Zurich, the massive strike in Frankfurt and XR's rebellions in, among others, London and Oslo. In sum, this summer proved once again that the climate justice movement has learned to adapt and act in a COVID reality.
With the looming COP26, movements are poised to hold decision makers accountable to the people, not the lobbyists. Fridays for Future, re-entering the streets globally for the first time since the pandemic began, are mobilising for strikes on September 24th and again in October, striking for justice and climate action. Similarly, during the COP26 climate summit, the COP26 UK Coalition – a network of mainly UK based grassroots organisations and NGOs – are calling for global marches and protests on the middle weekend of negotiations on November 6th and organising an online and offline counter summit from November 7th to 12th.
The fossil fuel industry is seizing their moment, greenwashing itself with advertising, sponsorship deals and false promises. Following the playbook of the tobacco industry, they know their continued existence is dependent on a social licence from the public to continue operating, they will spend billions of euros making sure they control the narrative about them. In response, a growing movement is demanding fossil ad and sponsorship bans, kicking out the industry from our public spaces. A new network is starting to form in Europe to support and amplify groups focusing on ending fossil ads, calling for European days of action from October 7-10th to #BanFossilAds.
Similarly, no fossil fuel company can live or function without finance backing. In this neo-colonialist world, financial institutions from the global north profit from extractive and destructive projects in the Global South. The money pipeline is the one enabling the flow of destruction! Block it, and a whole new set of possibilities for change open up. In a new push across Europe, in solidarity with groups taking action in other parts of the world, groups are calling for us all to disrupt fossil finance to #DefundClimateChaos and #EndFossilFinance from October 29th to November 6th.
As amazing as all these mobilisations are, there is the obvious risk from taking action before and around the COP26 summit, given we do not expect to see much positive results from our so-called leaders. A lack of tangible results, false promises, and greenwashing may leave many of us feeling burnt out and disappointed.
To that end, the Glasgow Agreement – a global grassroots collaboration of more than 180 organisations across 55 countries – wants to make sure the false promises and greenwashing of politicians and corporations at the COP are not the final narrative in climate action this autumn. Instead grassroots groups will take action and refocus the narrative on the polluters and the need to dismantle fossil fuel infrastructure itself. With the tagline #CollapseTotal – to avoid a #TotalCollapse the Glasgow Agreement is calling for a wave of decentralised actions targeting Total, or other large polluters, using a diverse array of tactics for powerful and creative actions to stop one of the most powerful and ecocidal actors on the planet.
Watching this interconnected tapestry of actions and plans, a pattern emerges. I'm reminded of the theoretical approach, called "Pillars of Support". Contrary to the top-down hierarchy pyramid we are traditionally taught, oppressive power systems are like an upside down triangle, unstable unless supported by pillars that maintain it. With this in mind, the autumn mobilisations become clear, a systematic battering of the pillars of support that uphold the colonial fossil fuel hegemony over society. Their political support, social licence, financial flows and infrastructure are all the targets of this wondrous ecosystem of movements rising up to build the future we want.
Hope to see you out there this autumn.