Activists across Sweden have been targeting aviation emissions, highlighting their climate injustice and showing people power. Learn more about how they organised these actions and how to support them.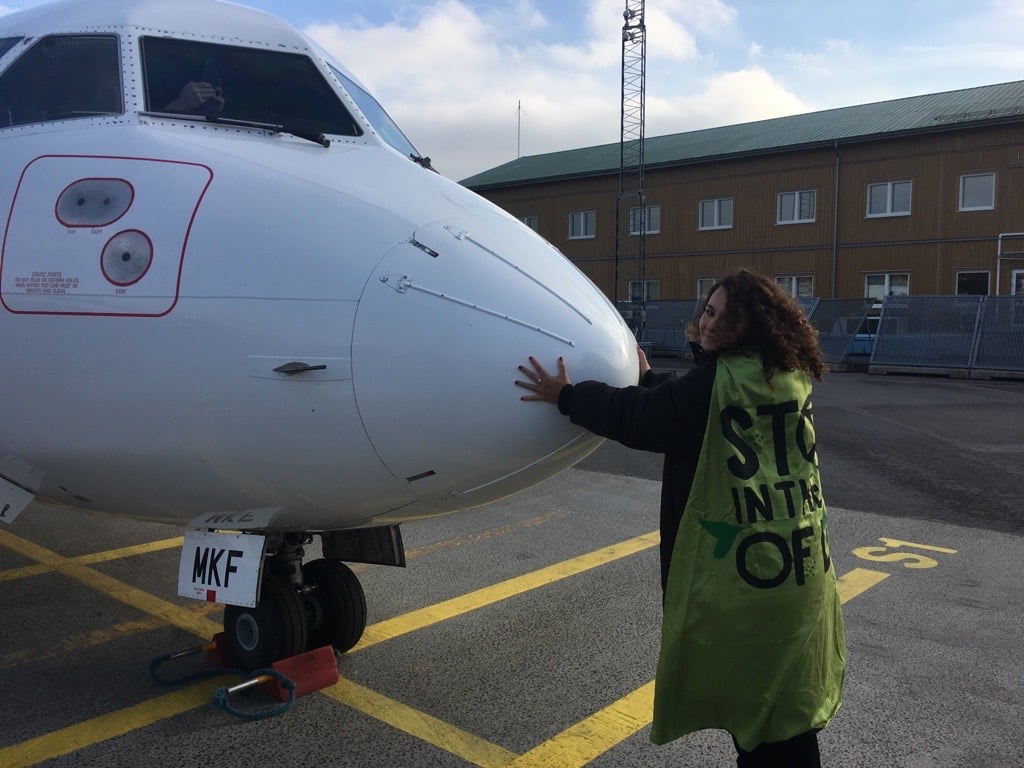 On Sunday the 31st of October 2021, eight airports in Sweden found themselves facing an unusual working day. Suddenly, at airports from Malmö to Arlanda, individuals were spotted making their ways onto the runway. At other airports, like Landvetter and Halmstad City, others intervened once on-board planes, preventing them from taking off. Across the day, it became clear there were coordinated actions disrupting flights.
By the close of the day, at least 15 people were arrested for taking part in actions across Sweden, varying from gluing themselves to key parts of the airport to locking on to sections of runway infrastructure. Both Växjö and Bromma airports were closed for several hours in the aftermath, with major delays and closures at the other airports.
For the Swedish airline industry, it was, in short, a disastrous day.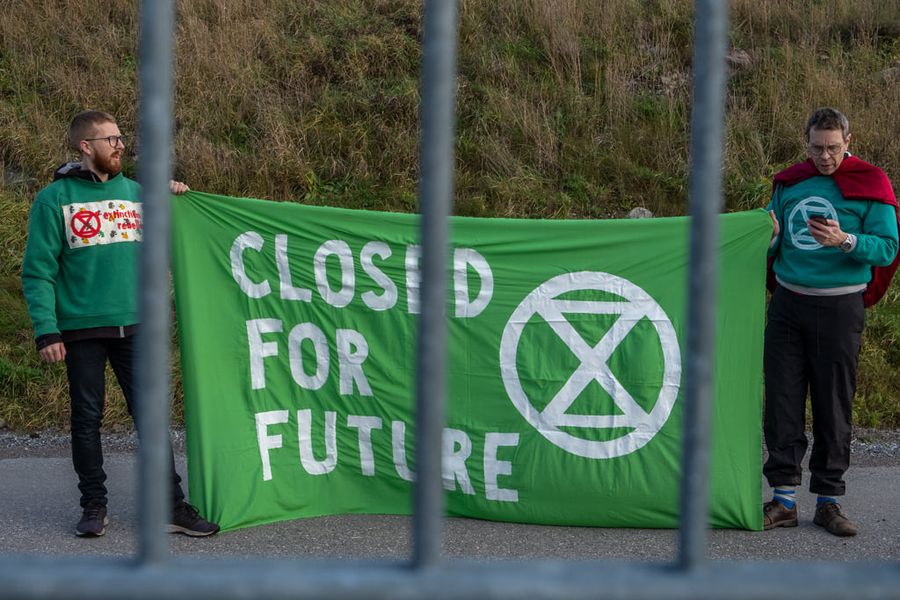 Why did this happen?
Extinction Rebellion Sweden recognised that society urgently needed to discuss emissions from flying, particularly given flying emissions come from a wealthy and small minority, in contrast to the global majority feeling the effects of climate change. Coinciding with the first day of COP26, XR Sweden called for actions targeting and disrupting Sweden's many airports.
'We were uncertain of what was going to happen' explains M, one of those who participated, 'since Extinction Rebellion organises autonomously.'
Despite not knowing if others would join, on the day, M and a fellow organiser prepared their banner, gained access to the airport, took some photos, and then walked towards the landing strip.
'Whilst we were walking along, we saw a security car driving along really fast, with its sirens on. We thought they were onto us very quick!' However, all was not as it seems. 'It went to another part of the airport,' says M, 'so we realised that someone else was doing something here too.'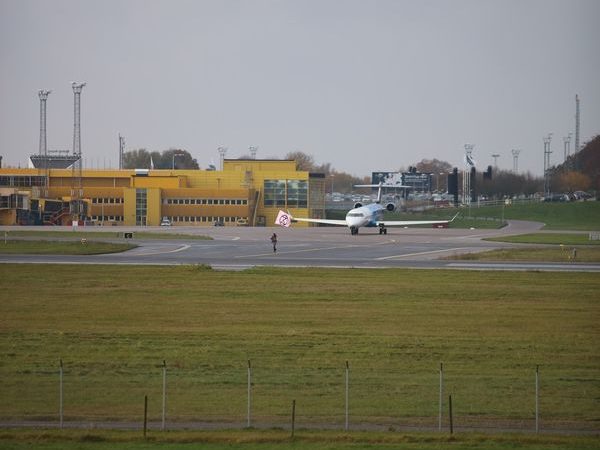 Locked on, flights off
'It took about an hour before the security came for us. Then they started grabbing us, and pulling us' explains M, 'but we were locked onto each other with D-locks and would not move, forcing them to de-escalate the situation.' In the end, after attempting to cut them out a few different ways, and four further cars of security personnel arriving, security finally succeeded in moving M and his ally.
M and his ally had to spend 22 hours in custody after this. Consequently, they were not aware of the scale of XR Sweden's successful action. 'I didn't know anything, until after I came out of custody,' M states, 'it was a surprise.' But after browsing the internet once released, it became clear that it wasn't just M's targeted airport, but eight of Sweden's airports.
Why target aviation?
For M and his allies, aviation emissions are a matter of climate justice. As M explains, 'it's only a small minority of rich people who are responsible for the majority of aviation emissions.' In fact, a report from the Guardian found that only 1% of the global population were responsible for half of aviation emissions in 2018, with 90% of the world's population not at all flying that year. For example, Bromma Airport, in Sweden, is in M's words, 'a quite small airport' but one that 'has a lot of rich people flying from it – a lot of private jets.'
Concerned about the massive inequalities here, M argues it's important to see these issues in their global context. 'People in Sweden rarely think of themselves as rich, but in relation to the global community they have huge wealth and privileges,' explains M, 'we wanted to address these global disparities.'
'We can't keep flying like this, it's not a climate just way of going about your life.'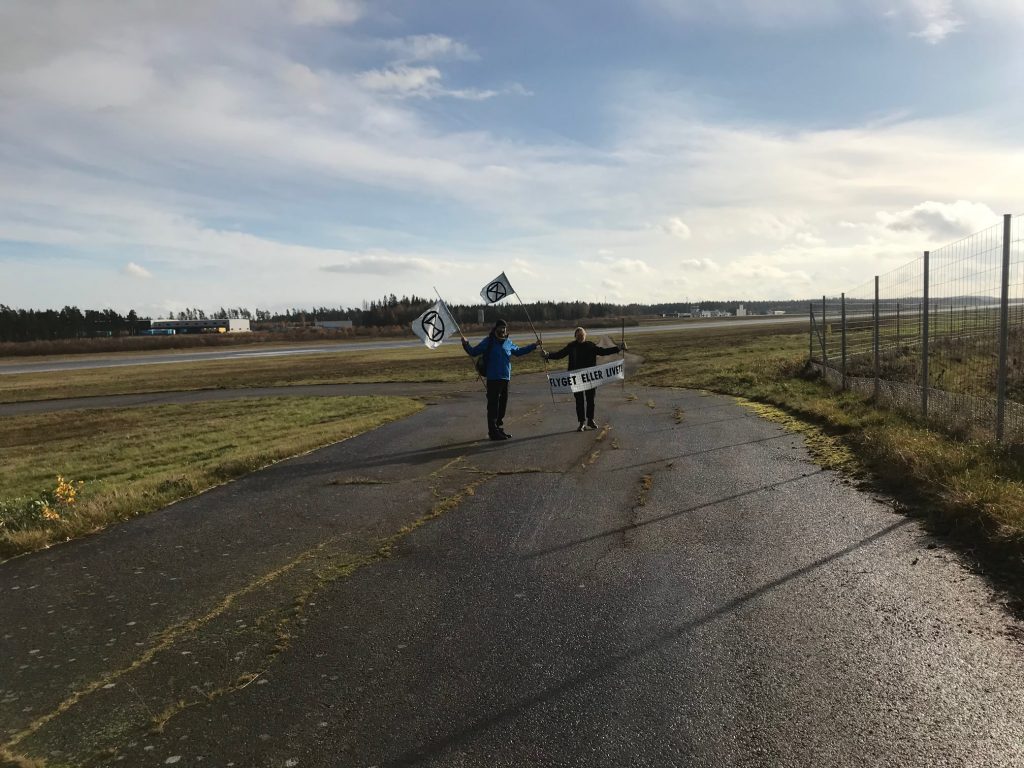 Looking forwards
What advice would M give to anyone else thinking of targeting air traffic? 'I would say really look into the legal stuff, make sure you know your way around the possible felonies.' Despite the legal risks, M remains upbeat around these actions – 'otherwise, it is quite easy to do an action, it's a big area they cannot entirely control.'
M and several of his XR Sweden allies are currently being prosecuted for aviation sabotage, which could bring a heavy penalty, including a longer custodial sentence. In the face of such aggressive repression against climate activists fighting for the future of our planet, M remains resolute and hopeful.
If you'd like to support XR Sweden activists facing fines and their wider actions, they have a donation page HERE.