Since 2015, Limity Jsme My have stood against coal expansion and fought for climate justice in the Czech Republic. For the first in our activist stories series, Marika Volfová and Kateřina Holá have been kind enough to share their experience at Klimajízda: Limity's climate-themed cycle-tour across the country in July.
The idea behind Klimajízda, our cycle tour advocating for just transition, was for us to meet with local people directly affected by coal mining, and hear how they imagine the future of their region beyond coal. We were yet to know the adventure, allyship, and new connections that awaited us as we approached the week with increasing anticipation.
The timing could not be more perfect: the Czech coal commission was presenting its coal phase-out scenarios this autumn (already met with dissenters) while the EU had revealed plans to distribute financial support to the coal-affected regions via the Just Transition Fund. Yet neither the government nor coal companies seemed to care about the local people's opinion on their future. It was our job, I thought, to make them care.
Very few of us had a direct experience of the region. We wanted to learn about it, and the people who form it, directly; to try to find a way the climate justice movement can help them, and vice versa.
I first became involved in climate justice activism after my experience of the border between Greece and Macedonia, where I spent months as part of a group supporting illegalised people in their struggle against borders. I realised how their situation is connected with a broader system of oppression, and the myriad ways in which climate change contributes to it.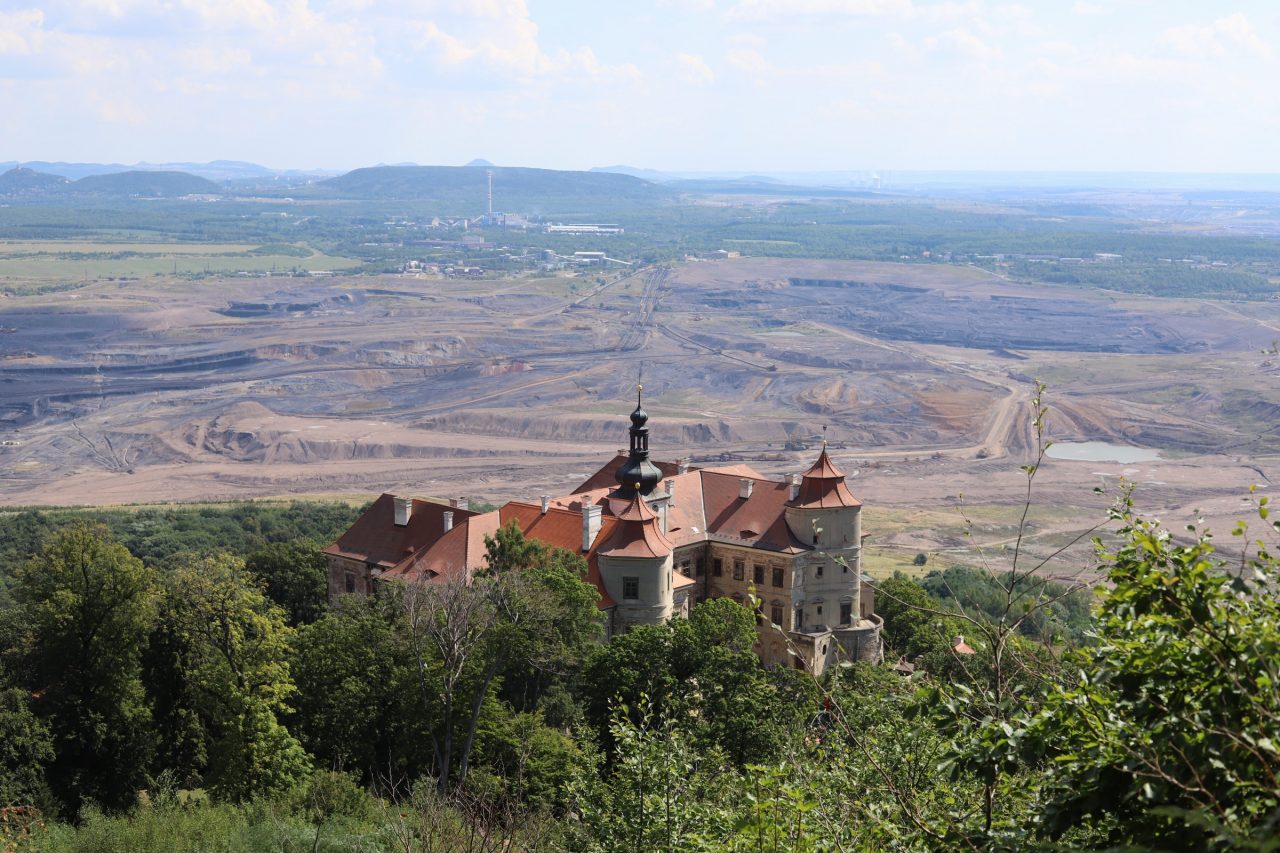 Our ride began in Sokolov. Three years ago a local activist group called Sokolovská beseda symbolically blocked a collier parade to discuss a future without coal. Each year since we've returned to create a dialogue with local people about creating a just transition together. What started in 2017 as a small action has, over time, become a lively public forum. Although the topic resonates now more than ever, the union leader of the Sokolovská uhelná mining company denied our invitation to join.
The morning after we started along our longest route: 75km to Klášterec nad Ohří. One group visited a local powerplant to meet with nearby residents who live right at the heart of this historic coal region, and who will be the first to be hit by the twin maladies of air pollution and job losses.
'The mining company destroyed the villages around us. Will justice mean that at least our village will have a chance to develop?' one of them told us.
Many of us, including myself, tend to think of coal regions as 'cursed' by coal. Its extraction not only destroys nature and landscapes, but also impacts the quality of life of people in these regions.
We knew our ride would be filled with many stories such as this; of heartbreak and injustice, of the cruel indifference of giant coal companies. We visited nearby Karlovy Vary and pumped water from its healing springs into our bottles to give us strength, and continued our ride along the Ohře River, a historic tributary which runs here from the Bavarian heartlands.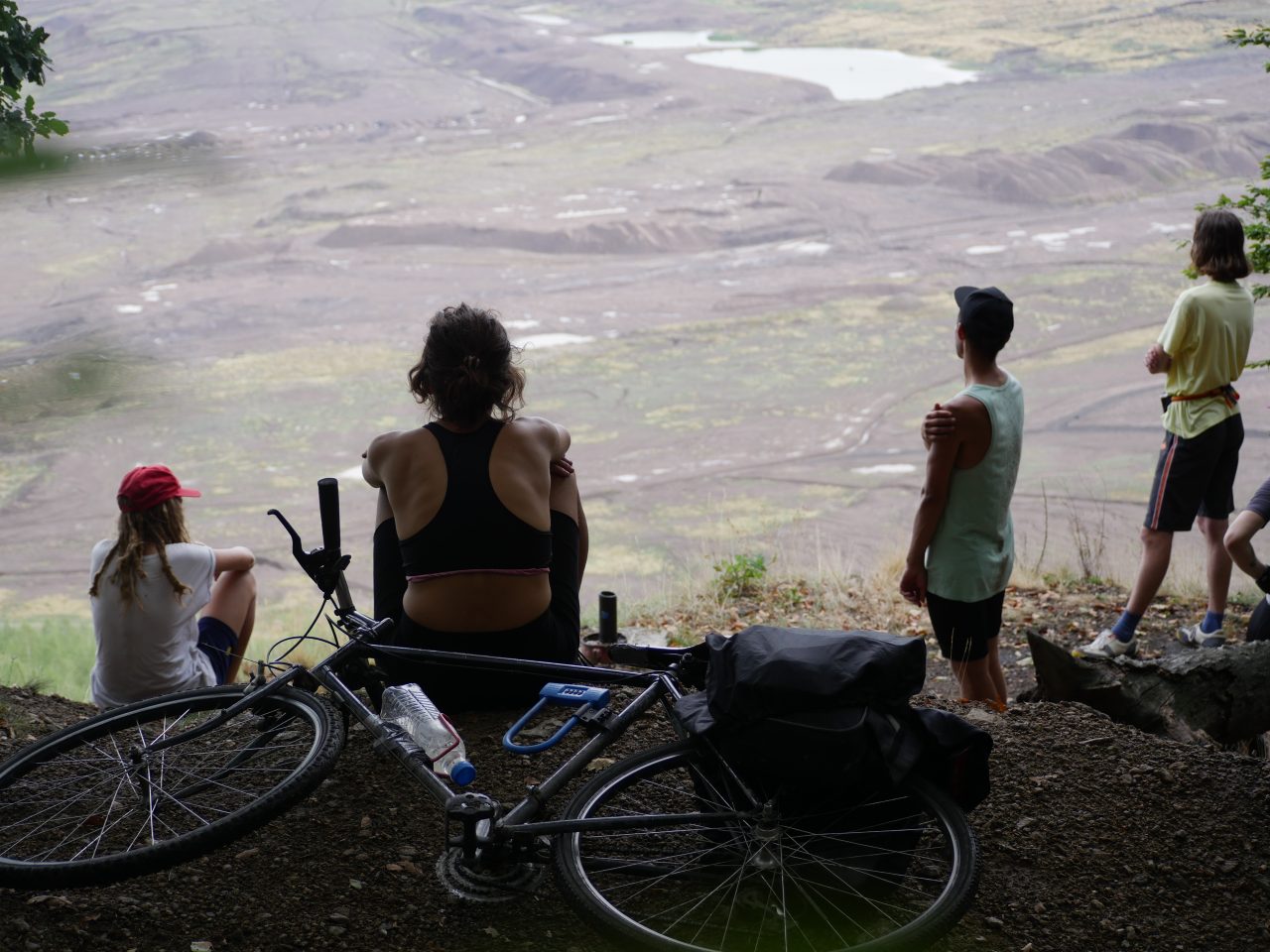 In Žatec we fed on wild apples and pears. By chance we met an ecological wine producer who agreed to host us. He told us about the history of the region, going back to 14th century Cistercians monks.
I was reminded here of one of the first direct actions of Limity Jsme My — a visit to the house of Jan Dienstl, a coal tycoon in a nearby village. We simulated the sound of a coal digger outside his house, attracting local media. In those early days, we were still finding our voice. Limity emerged as a response to plans to break coal mining limits in Northern Bohemia, introduced to protect settlements from destruction (notably Horní Jiřetín, an iconic city at the edge of the mine). At that time the public discussion was centred more around protecting villages and cities from destruction. Since then, we've grown into a mass movement to protect the climate as well as communities.
Near the middle of our trip we organised a debate with local opposition to the Počerady powerplant. It is the most contentious topic within the national energy debate – the dirtiest powerplant being sold to coal baron Pavel Tykač, a man with a billion-dollar fortune and little stake in the local community. The heated debate revealed value disputes within different groups, some of whom harboured grievances towards ethnic minorities, with others simply failing to see how any technology could provide stable employment and energy like coal.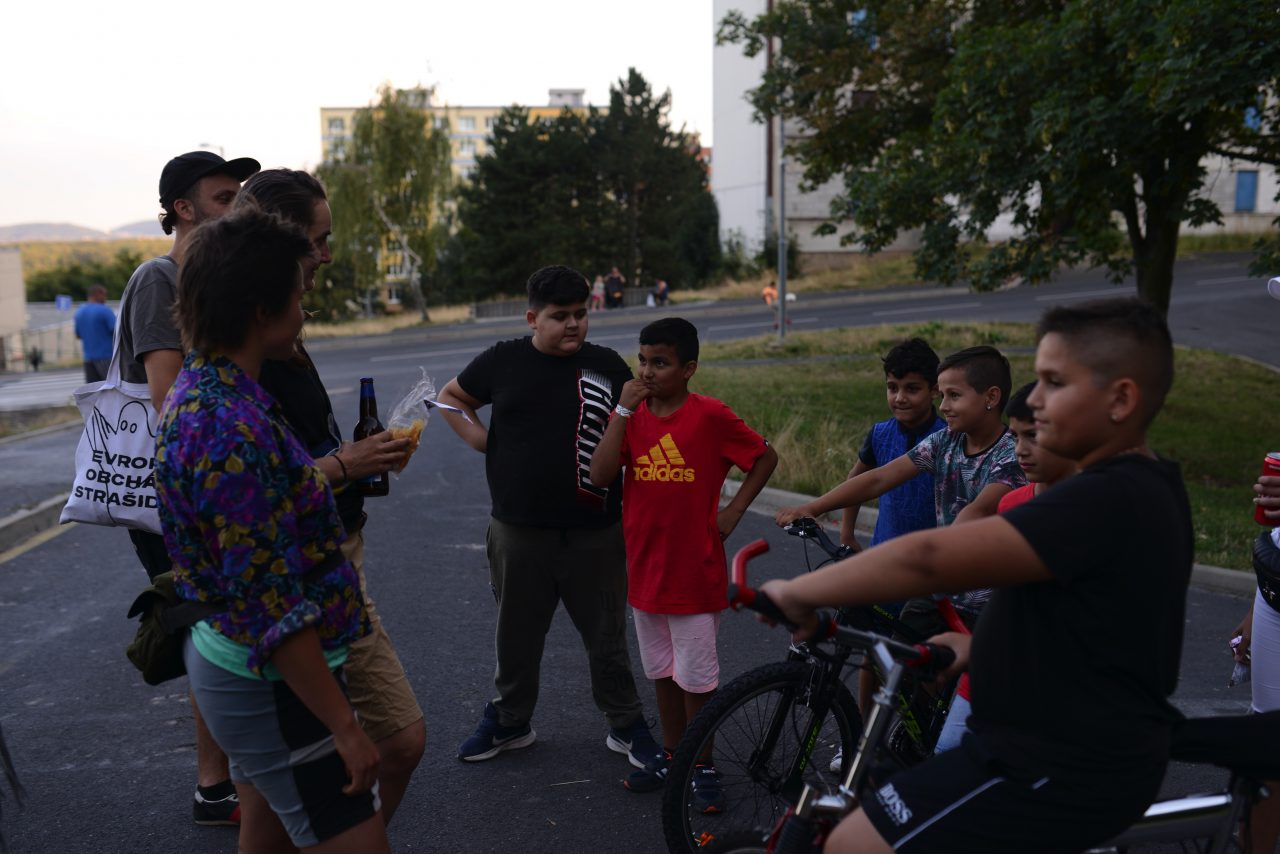 The next day we went to the site of the plant to invite people for the coalition demonstration there on September 5th. Visitors of its viewpoint appreciate how the landscape has been restored by money wrought from coal production. Although some of them were said to be worried by climate change, many also despise wind turbines and solar farms for their impact on the landscape. As we left along our cycle route we saw sculptures paid for by coal companies, lining towns which they had helped destroy.
At the Podkrušnohorské technické muzeum, we spoke to a former miner about the large-scale mining projects ongoing in the region. Although the destroyed villages were mentioned, recultivation was presented only as a success. The issues of climate change, as well as with the dubious privatisation of the industry in the 90s, were both completely missing — a fact I found worrying, given the museum organises educational school tours.
When I asked our guide what he thinks of a coal phase-out, he couldn't hide his bitterness. 'Green thinking cannot provide enough energy,' he told me, 'We cannot just switch the coal off. Once they call us to go digging again, we will immediately do so.'
I found sentiments like these dispiriting, but not uncommon. The history of coal phase-out across Europe tells a similar story — these weren't just jobs at stake, but people's identities, their communities, their sense of pride, all deeply bound-up in this question of transition.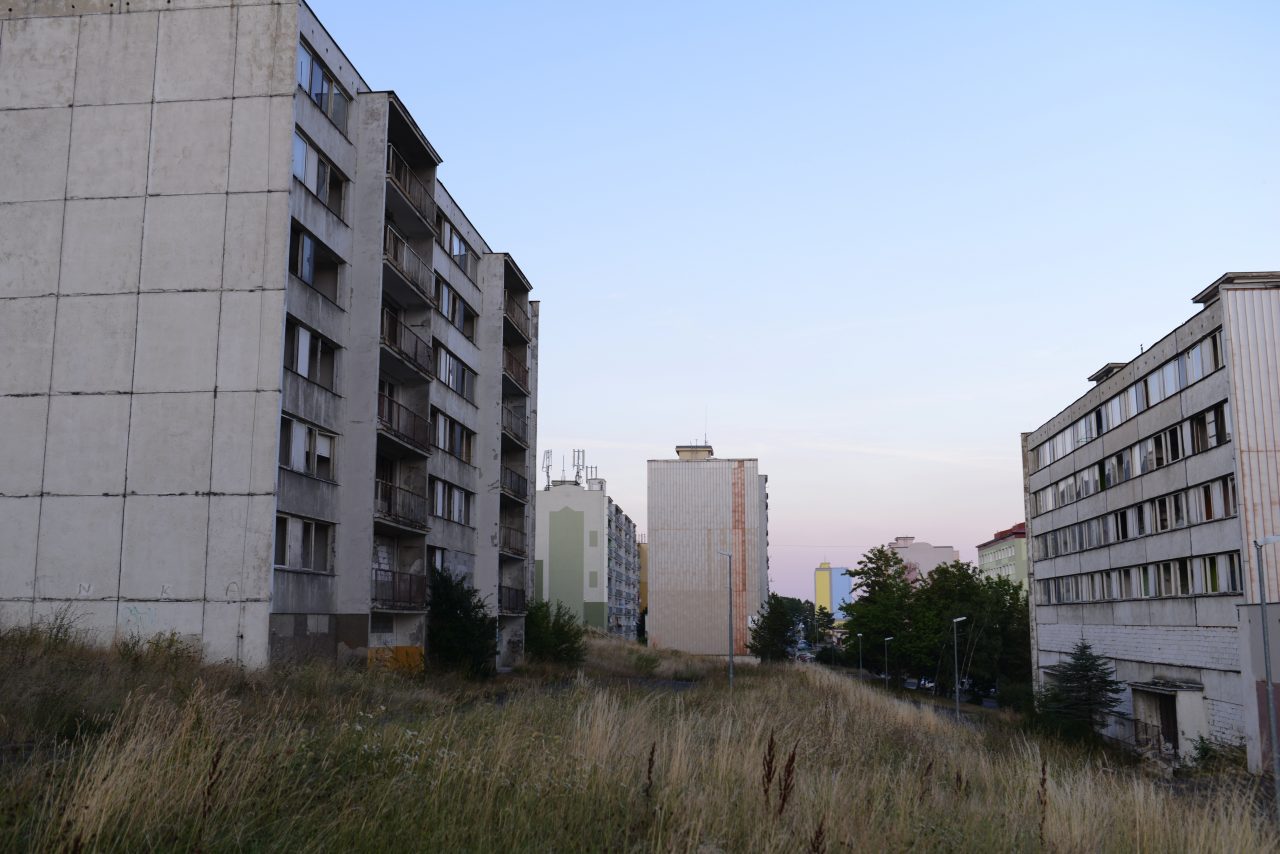 That evening we had dinner with Jozka Miker, an activist and former miner, who told us about his work as an anti-racist campaigner. We went by Duchcov, where in 1930 police shot four demonstrators during the march of the unemployed. I realised that these battles had been fought for generations before me, and would likely continue for generations to come.
Our cycle tour ended in Hraničář, where we had organised a public discussion about the coal-free future of the region. The city was vibrant that day. There were actions commemorating the Soviet occupation of 1968, pre-election meetings, and an outdoor concert. It felt like the future beyond coal was writing itself.
I felt proud as I thought of all the people we met during the Klimajízda — people who wanted to imagine with us what a coal-free future might look like. That, for me, is what resonated most on our trip: the mutual curiosity about what we might achieve, and how we might foster change, together. I knew that we needed to come back one day soon to grow these new connections, and continue the debate on how to nurture a just transformation.
(PS: our friend Anna won the quadrathlon at Milada Lake and rolled out the flag of Limity Jsme My at the end. Congratulations Anna!)