A carbon bridge to a no-carbon future? No thanks, say activists behind the Danish campaign Baltic Pipe Nej Tak! who are fighting to block the fossil gas pipeline currently being laid on Danish shores and seas.
In the last year, while the construction of the pipe has continued, the number of protests and blockades in different parts of Denmark have gained strength. In the pandemic time, activists organised under the banner Baltic Pipe Nej Tak! have succeeded in finding creative and innovative ways to keep the resistance going. Since January last year the loosely structured group has escalated actions by putting together action camps, demonstrations on bikes and kayaks along the rural pipeline construction sites, where they were joined by locals. In the cities, small masked protests and a travelling street theater has helped the movement gather steam. Much of the action has moved online in the recent months.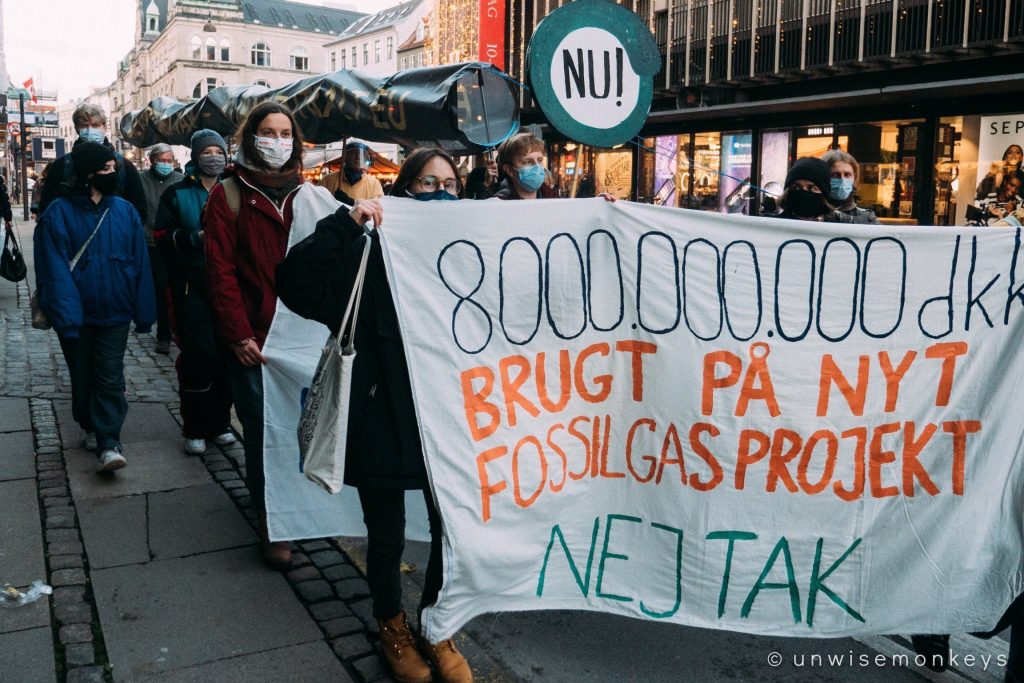 "We love the diversity of actions we have used in the past year and they all prove to have different strengths. There's pros and cons to each type of action and it's often a matter of keeping a balance in doing lots of different things while being open to new strategies. Social, cozy events are really important to prevent people from burning out. We have realised that community work and selfcare keeps a healthy and strong protest movement going – especially during a pandemic," says one of the Baltic Pipe Nej Tak! activists.
Some of the actions in the past year under the banner Baltic Pipe Nej Tak!
March 2020 – Demonstration in the village of Everdrup in southern Zealand where a compressor station for Baltic Pipe is being built
June 2020 – Bike and kayak demonstrations all the way along the pipeline being laid on the islands of Zealand and Jylland. On one occasion locals greeted the bike demo at the finish line with banners and campfire.
August 2020 – 3 day action camp with locals and around 60-70 activists where food was shared in community kitchens along with skills and information
July and August 2020 – Several lock-ons to construction machinery leading to around 15 arrests
October and November 2020 – Street Theatre of pipeline being laid in pedestrian areas of major cities
February 2021 – Smash Baltic Pipe barrels on Fastelavn and online webinars
March 2021 – Demonstration through Copenhagen on bikes
The 600 km EU funded Baltic Pipe will connect fossil gas supplies between Europipe 2 in the Norwegian North Sea and Poland via all three major islands of Denmark. Fossil gas is wrongly called natural gas in government campaigns in the bid to convince voters to accept the use of fossil gas as a 'transition fuel' to low emissions. Fossil gas is mostly made up of methane – which is 84 times more potent in its greenhouse effect than C02.
"We will be able to stop it," say the activists, encouraged by the recent success of grassroots movements in stopping pipelines in the US and closeby in Sweden. Baltic Pipe Nej Tak! see no reason in stopping actions against fossil fuel infrastructure projects in times of the pandemic, in fact they see many reasons and believe it is the right time to block pipelines, because as they say, climate change is not under lockdown.
The group also finds inspiration to keep the movement going in the mushrooming of resistance against the doublespeak of progresive governments around the world from the Gastivists Collective, NoTAP activists in Italy, other groups and millions of people around the world that stand in solidarity for a fossil free world.
Digital actions have been leading the way during the pandemic when gathering in large numbers is not safe. On 14th February this year, small groups in seven locations in Denmark gathered to smash wooden barrels with the lettering 'Baltic Pipe Nej Tak!'. This action was part of the Fastelavn celebrations, a holiday in some European countries where under normal circumstances, people gather and take to the streets dressed up in costumes; in Denmark on this day, it is also customary to smash a wooden barrel like a pinata. "It went really well! People did their own decentralised actions and then shared photos online. There's some people working on a video as well," they said.
"I think we didn't really know what exactly to expect, it was just a free script. Everyone can dress up as something they want for Fastelavn when people meet outside to smash the figurative Baltic Pipe and you can see that in the many photos."
Resistance has also taken place in the local areas where the pipe is being laid, with residents and activists joining forces. A group of farmers has also been reported to sue the Danish state owned Energinet – the company implementing the fossil fuel project in Denmark. In the south of Zealand in Denmark, where a compression station is planned, the site was occupied and a number of construction sites were brought to a stand still by activists attaching themselves to the machinery, leading to 15 arrests. As and when the lockdown rules allowed, the Baltic Pipe Nej Tak! organised demonstrations on bikes and even kayaks to spread the word to the Danish countryside unaware of the Baltic Pipe being laid in their backyards.
In the meanwhile, confrontations with the company Energinet, have led only to fingers being pointed at the Climate Ministry of Denmark, who has been anything but responsive, the activists say.
The argument for Baltic Pipe discussed in Danish parliament is that it will make Poland independent of Russian fossil gas, and also relieve its dependence on coal. To justify the EU's untimely backing of fossil infrastructure, the likes of the Polish Ambassador to Denmark have repeated that the Baltic Pipe is a step towards a greener Europe. The activists are challenging this narrative, which they see clearly as a  greenwashing tactic by those in power. "There is apparently an economic and geopolitical case for the 2-way Baltic Pipe. But not a lot of people know that there are no promises from Poland that the country will transition to low carbon energy in the next decades. In fact they have promised the coal workers that they will have jobs for the next 30 years," the activists say.
Baltic Pipe Nej Tak! can be reached via www.balticpipe.net and their social media channels where they are always inviting volunteers to join the future actions even if it is simple banner drop pictures with the hashtag #BalticPipeNejTak.