[Anna Maria, retired grandmother: "The defence of my rights, and those of my children and grandchildren, the defence of the land that was my father's and my grandfather's, the struggle for the right to a future, to a healthy environment, to dignity… these are my only faults."]
Since 2012, the community of Salento in southern Italy has led the fightback against the massive Trans Adriatic Pipeline (TAP), the last leg of a mega-pipeline from Azerbaijan to Italy that is devastating their land and livelihoods — and exacerbating the climate crisis.
NoTAP, the group at the centre of the resistance, say the Italian government is doing everything it can to criminalise their efforts to protect their community. Hundreds of its activists — from grandmothers to students, from farmers to local business owners — are set to be put on trial later this year for alleged crimes related to their protest, a move which NoTAP have called a 'systematic campaign of repression by the Italian state.'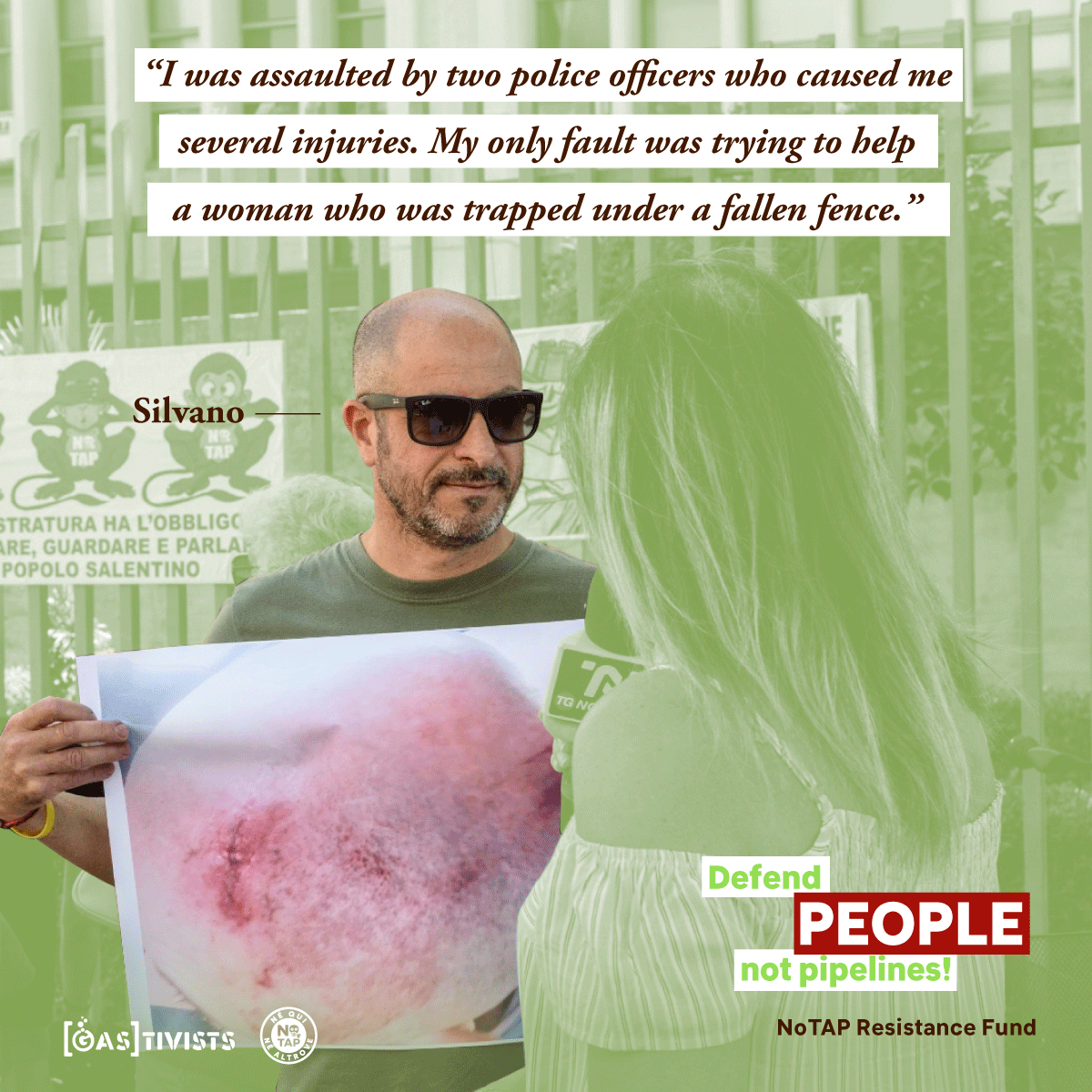 So how did we get here? Led by residents of Melendugno, as well as other nearby towns and villages, the NoTAP movement was started to raise awareness about the environmental impact of the Trans Adriatic Pipeline, which threatens ancient olive groves, cultural heritage sites, and local workers in their region.
Due to their organisation and vocal presence, the first TAP proposal was rejected by the Italian Ministry of Environment in 2012, for major deficiencies in its environmental planning. Local authorities — from local mayors to the Governor of the Region of Apulia — also expressed their opposition to the project, and have aligned themselves with the NoTAP movement, leading to legal conflicts between regional democratic organisations and fossil fuel corporations.
Thanks in part to the reports and complaints filed by local activists, the TAP contractors have been indicted by the Public Prosecutor's office in Italy, for environmental crimes related to their construction activities, having been forced more than once to apply for building permit extensions.
In 2017, a peaceful protest led by local residents erected stone barricades to block access to the TAP site, leaving contractors unable to begin work. The group was given entry to the adjacent land by a local farmer, allowing them to set up camp as part of their creative campaign of disruption. But they were soon confronted by hundreds of police deployed by the Italian government.
[Aurora, local activist: "Because of our resistance, my fellow activists and I have become the victims of a severe campaign of repression… It is absurd that, for defending one's own land, for opposing a work that they want to impose on us, the consequences are so severe… for people's everyday lives and also for our future. But we continue to stand strong, and always will!"]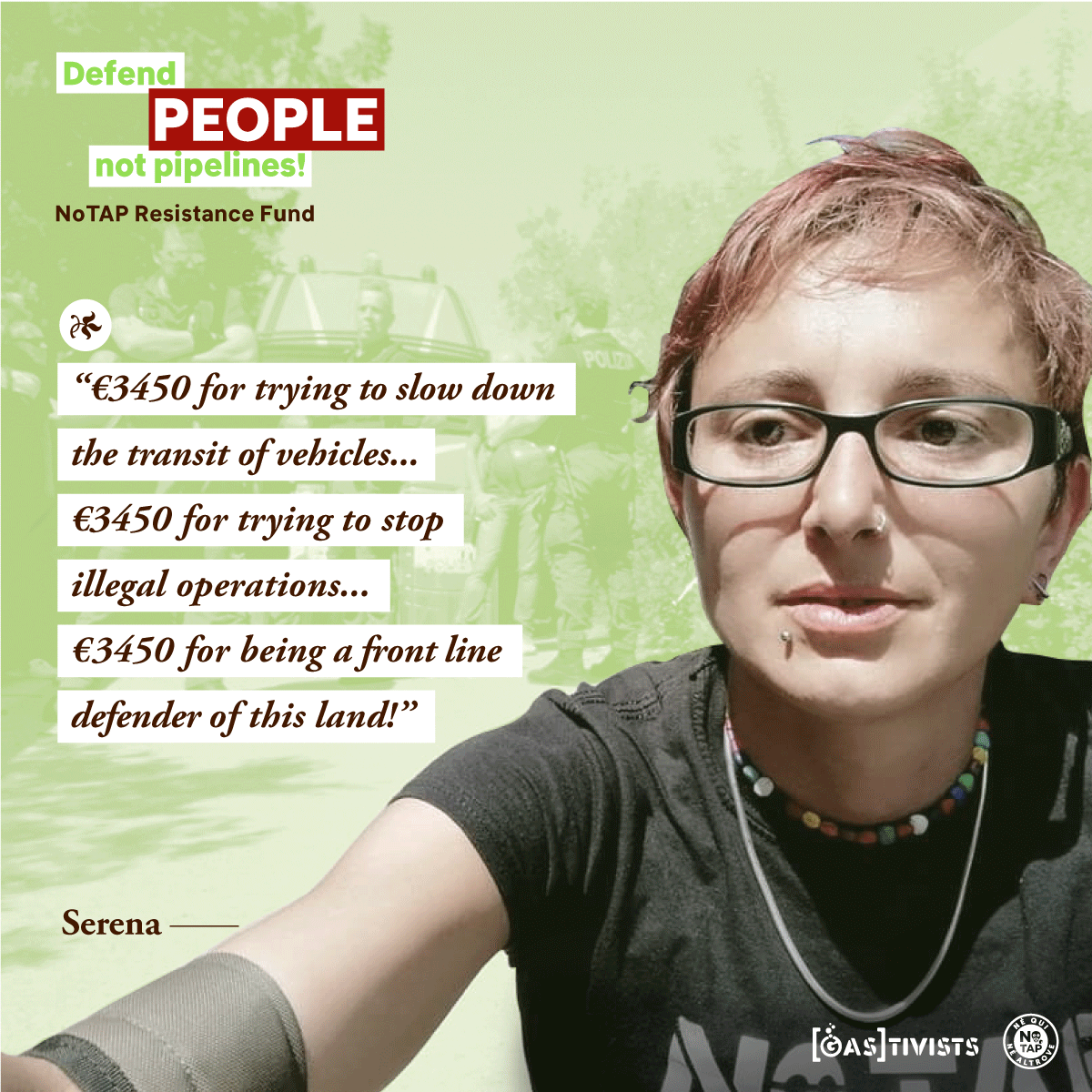 While their fight for climate justice is still ongoing, NoTAP are a fantastic example of innovative local activism with a big impact. Now, facing the fightback of their lives, they need the support of our community.
In total, the activists are facing up to €240,000 in government fines and €70,000 in legal fees. Some even risk prison time and other restrictions to their personal freedom. The group have set up the NoTAP Resistance Fund to help cover these legal costs and keep fighting another day.
[Enzo, local business owner: "It's as if I am a mafia boss… I have the same legal proceedings as a mobster, but I am a law-abiding citizen, a father. I have children, I have always worked, and I have never hurt anyone, yet I find myself in this situation because of TAP."]
The protestors' bravery and innovation in the face of powerful opposition has made national and international headlines, as more and more people express solidarity with their struggle. Now, with resistance to the fossil fuel industry on the rise, we're seeing a huge rise in cases like this across the continent — and harsher consequences for climate protest movements.
That's why we're standing in solidarity with NoTAP and bring even more attention to their inspiring story. The movement has shown that if activists, citizens, and workers all come together, we can be far more creative and powerful than the forces we oppose. Follow the link and find out what you can do to be part of the resistance, and stand with #PeopleNotPipelines.