It is time to retake the streets. In July, the European Parliament will vote on a new taxonomy for gas and nuclear and a coalition of grassroot groups and NGOs from across the world will show up and demand MEPs stop this unbelievable act of greenwashing.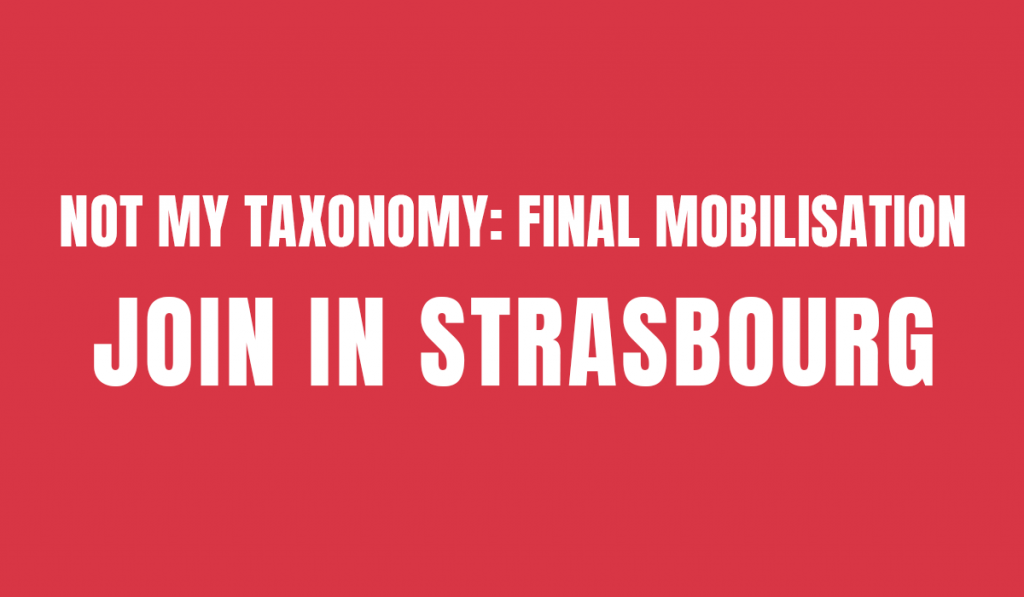 The EU is set to grant these energies its "green" label, giving them access to money and financing schemes only meant to be accessible to actual renewable energies. If those energies get greenwashed, massive amounts of public and private money will be diverted away from renewable energies, undermining all previous efforts to tackle the climate crisis.
Join the mobilisations to Strasbourg, where the European Parliament will vote on the new taxonomy, in the week of the 4th of July.
Where? A base camp is planned in GUNDERSHOFFEN (exact address: 1 chemin de la Scierie, 67110 GUNDERSHOFFEN) from Saturday the 2nd until Thursday the 7th of July in the region.
It is a meadow on which commodities will be set up and with a barn, so make sure to bring camping gear, sleeping bags and mats, as well as toiletries and other camping gear you may need. There will be possibilities for public transport as well as shuttle buses between the camp and Strasbourg.
If you are coming in a larger group, let the coalition know by emailing [email protected] so that they have an overview of how many people will be coming. This will help the logistics team make sure to provide enough facilities, such as tent space, food, etc.
When? Action days will take place between July 4th and 6th, depending on when the vote and debate about the taxonomy will take place; this will be announced the week before. It is advised to arrive at the very latest on Sunday the 3rd of July afternoon, and plan your travel back for Thursday, July 7th after noon or in the evening ideally.
How to get there?
There will be buses coming to Strasbourg and the base camp from different parts of Europe. Otherwise, the GUNDERSHOFFEN local train station is situated a mere 5 minutes by foot from the campsite.
Are you and your groups interested in organising a bus? Please get in touch with the mobilisation team via [email protected].
What?
During two to three days, you'll be invited to take part in as many or as little colorful, strong and inclusive activities as you want. Everything will be planned to make these several days a moment where everyone gets to make their voices heard and use their selves to broadcast a strong message to MEPs.
To join the *legal demonstration* please arrive between 11.30 and 12pm on the 5th of July, at 9 place de l'université, Strasbourg.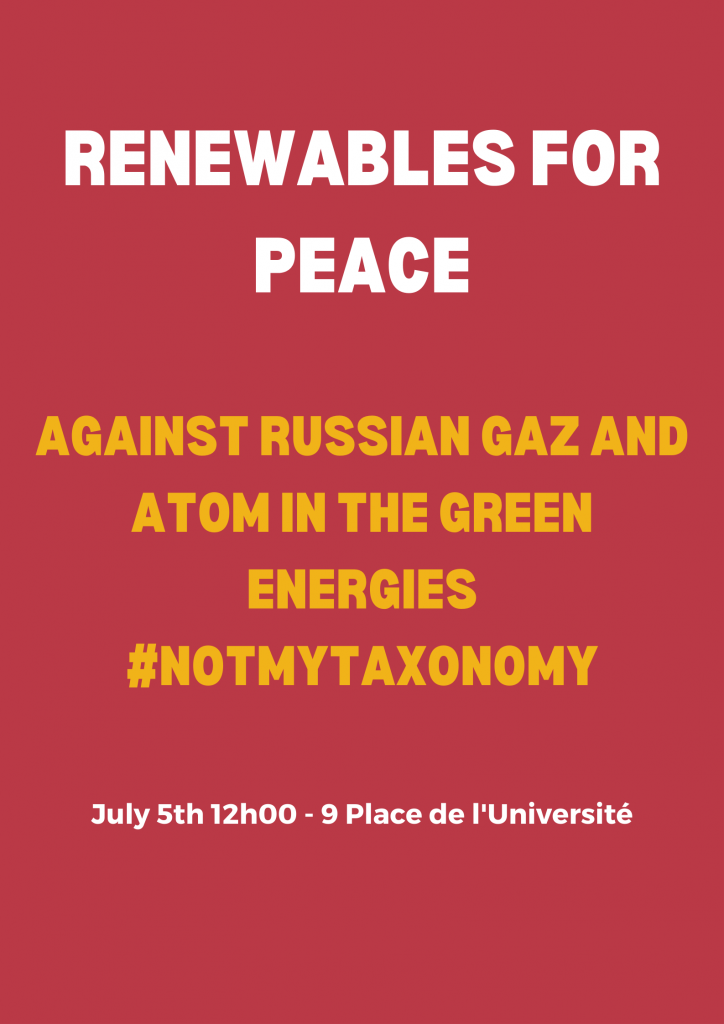 What can I do to support?
Once on the camp, you will have the chance to join different teams so that, in between action preparation, everyone can make sure the camp runs smoothly and everyone feels comfortable! From kitchen shifts to info point to awareness, there'll be plenty to do, skillshare and learn about.
At the moment, there is a priority need for people with first-aid (or even street medics) experience. If you know such skilled people who could have time but were hesitating to join, please do let them know that their skills are very much needed.
More info
You can find the call to action and the groups supporting the mobilisation here.
To stay informed sign up to the mailing list by sending a blank email to [email protected] or sending a message to [email protected] to get all of the latest updates.
Welcome Pack
If you prefer you can also follow the updates posted on Twitter.
See you in Strasbourg to stop the greenwashing of the European Taxonomy together!