March 2021: Lawsuits, a pandemic and an oil pipeline
Hello Changemaker!
As vaccination programs kick off in some parts of the world this year, it is becoming more obvious that some governments got used to the idea of being able to stop people from gathering in large crowds. From different (rounded) corners of the globe we hear snippets of new laws that give more control to the police to dismantle protests, spy and prosecute organisers.
BUT as Wael Ghonim said "the power of the people is much stronger than the people in power" so here's this month's bulletin with updates from the coalition, stories of people power, global recovery and fighting the censorship that activists face.
WE ARE NOW THE MOVEMENT HUB!
We are changing our name! When we started this project almost 3 years ago, our goal was to provide open source tools, skillshares, trainings for trainers, camps and more in order to support grassroots activists and connect people across borders and movements. We chose the name "European" changemakers because honestly, we never expected the incredible response with people joining us from Colombia to Australia, Canada to South Africa. It's been really humbling and invaluable to have you sharing your experiences and knowledge from across the world. In order to better reflect this reality – we are changing our name to "The Movement Hub. We are just as determined to keep sharing stories of changemakers and providing resources that will help you and your allies create the world you want to see.  Why should you care? The email sender will change from next month, our website has changed and our Facebook group is rebranded and we want to make sure you don't miss it.
---
HUNGARIAN GRASSROOTS
Local people, who will be directly affected, are taking up a fight against the Hungarian oil and gas company MOL.  The oil giant wants to drill for fossils in Őrség National Park, a protected area in western Hungary. A petition was launched by the movement and has generated over 25,000 signatures already. 
With media all over it but the government yet to claim its stand on the issue, MOL has announced suspension of the official permission process for 6 months, but the company is still dedicated to carry out test drillings on-site to map the area.
The drilling site is just a few hundred meters away from a traditional settlement, a popular eco-touristic area, part of the Hungarian Natura 2000 network.
---
FOSSIL FREE REVOLUTION LIVE STREAMS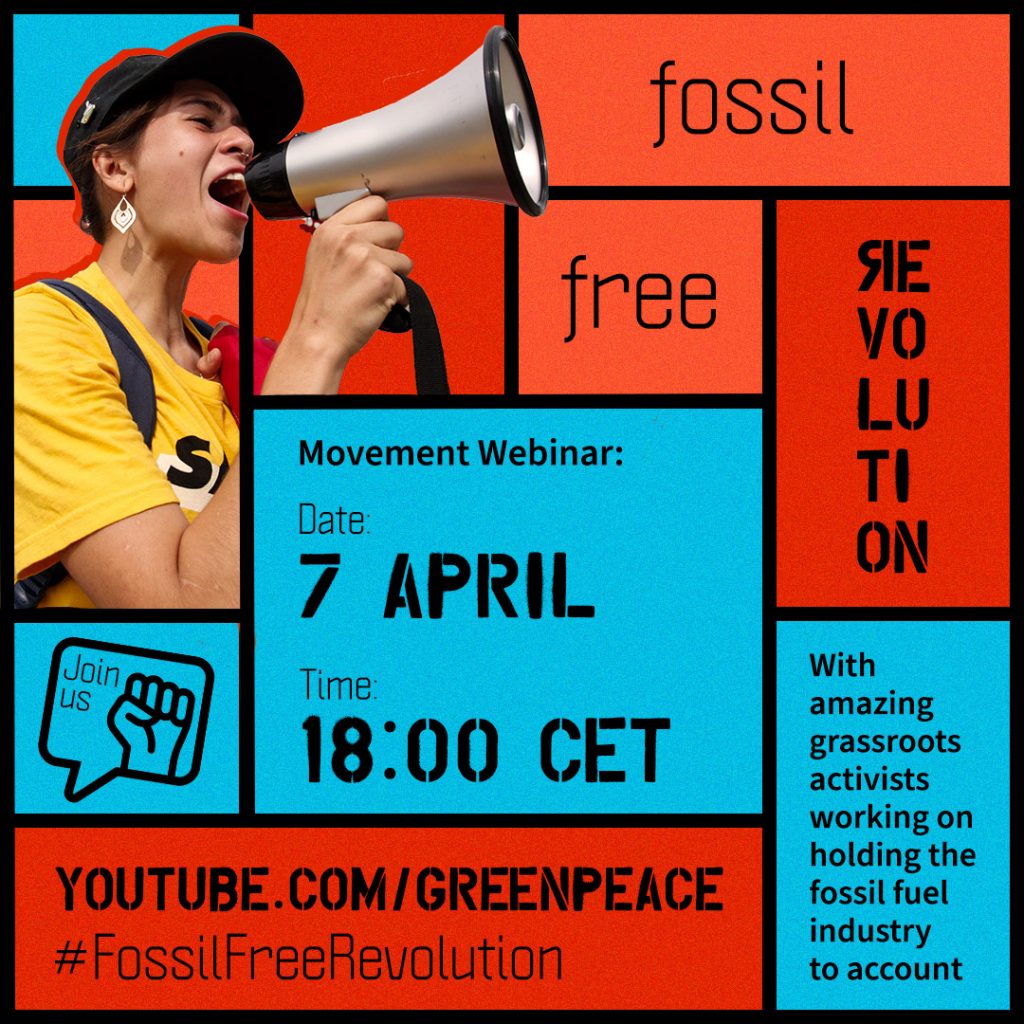 The Movement Hub has helped organise a live-stream with amazing speakers from movements working on holding the fossil fuel industry to account from an intersectional perspective. It's happening on  April 7 from 18:00 to 19:30 CET. You can watch the livestream on Greenpeace International's YT channel. Samie from Black Earth Kollektiv, Teïssir Ghrab from Alternatiba Paris working with La Verité pour Adama and Veronika from Limity Jsme My will be speaking – don't miss it.
Let's inspire each other and fight for a #FossilFreeRevolution!
---
THE CASE: THE COALITION AGAINST SLAPPS IN EUROPE
CASE is a coalition of NGOs from across Europe representing a range of different public watchdogs united in recognition of the threat posed to their work by Strategic Lawsuits Against Public Participation (SLAPPs), abusive lawsuits designed to silence critical speech.
On March 26th at 10:30 UTC, the coalition will be launching a repository of materials along with an amazing panel of speakers such as activists from The Atlas of Hate and Whistleblower Jonathan Taylor. To find more details and register, follow the link.
---
FOSSIL GAS, AND SAY NEJ TAK!
If you've got a story of ordinary people doing extraordinary things that you want us to amplify and show solidarity with, don't hesitate to get in touch with us by replying to us directly at [email protected] 
---
GLOBAL RECOVERY GATHERING
People around the world are coming together to collectively reimagine our future and now is the time for the climate movement to reconnect!
The Global Just Recovery Gathering is a three-day online event featuring interactive workshops, cultural sessions, and hands-on training. Build your skills, strengthen relationships, and hear from a powerful line-up of climate leaders, artists, and musicians in every corner of the world. The Movement Hub will be hosting skillshares as will many incredible trainers and speakers. Sign-up now and help design a new path towards a better future for all.
---
POLISH LGBTQ ACTIVISTS
Last year, the Polish president, who was narrowly re-elected to a second term, described campaigns for LGBT rights as "even more destructive" than communism during his election campaigns.
[In the previous elections] The Law and Justice party came to power "by raising the fear of immigrants". That was the reason for the first success. But nobody wanted to come to Poland after this. Who would want to come to such a xenophobic country?" Elzbieta Podlesna asked
"So they invented another scapegoat: LGBT people," she said.
Earlier this month, a Polish court acquitted three activists who were accused of desecration and offending religious sentiment for altering, producing and distributing images of a revered Roman Catholic icon that included the LGBT rainbow.
---
NEED HELP WITH ANYTHING?
If you're focused on planning a campaign or an action but are stuck on an issue or would like to get feedback from experienced activists, use the form below to join our Campaign Surgery, where we get you access to the collective knowledge, links, and expertise of our broad network.
We'll bring together experienced people in the field to draw on their wealth of knowledge and help answer any burning questions you might have.
---
That's it for now but you can always check our website www.themovementhub.org for stories, webinars and tools.
Karl and the rest of The Movement Hub