February 2021: People's climate strategy, new skillshares, digital tools and more…
Hello Changemaker!!
For those looking forward to these bulletins, apologise for the slight delay but it took us more time than usual to put this one together. In this month's bulletin, there are some key updates, useful resources, inspiring stories and actions for you to take. Let's get started…
PEOPLE'S CLIMATE STRATEGY
European conference – March 6th and 7th
An online conference, organised by groups from the Glasgow Agreement, and open to all climate justice groups based in europe. The idea is to share and listen to groups' plans for 2021, map the year and coordinate actions for spring and beyond. Here's the current agenda. You just have to fill out the form before March 3rd.
---
NEW SKILLSHARE SERIES
Like many of you we are trying hard to figure out what we can do and how we can amplify our impacts! To that end – we have launched our next 4 week, online, interactive, skillshare series on How to Move Movements!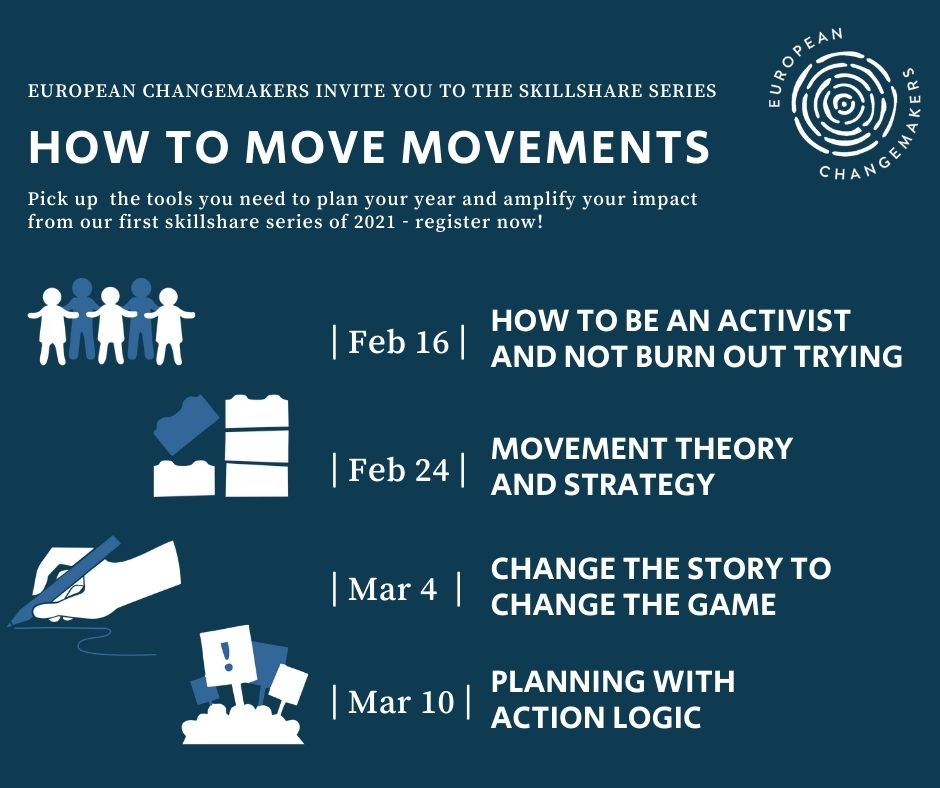 Pick and choose the tools you need from our skillshare sessions in Feb-March! Taking a step back to see the full view of movement strategy, getting your hands dirty by hacking your opponent's story with artivism or scaling up your impact by planning with action logic – this series will help get you and your groups ready for the year to come.
---
FEATURED RESOURCE: PHONE JAM
The Phone Jam tool is the most recent addition to our open-source, unbranded, free-to-use campaigning platform Digital-Activist.org. In addition to setting up social storms, you can now organise phone campaigns by having your supporters call, SMS or WhatsApp your chosen target(s). Here's how a demo campaign looks: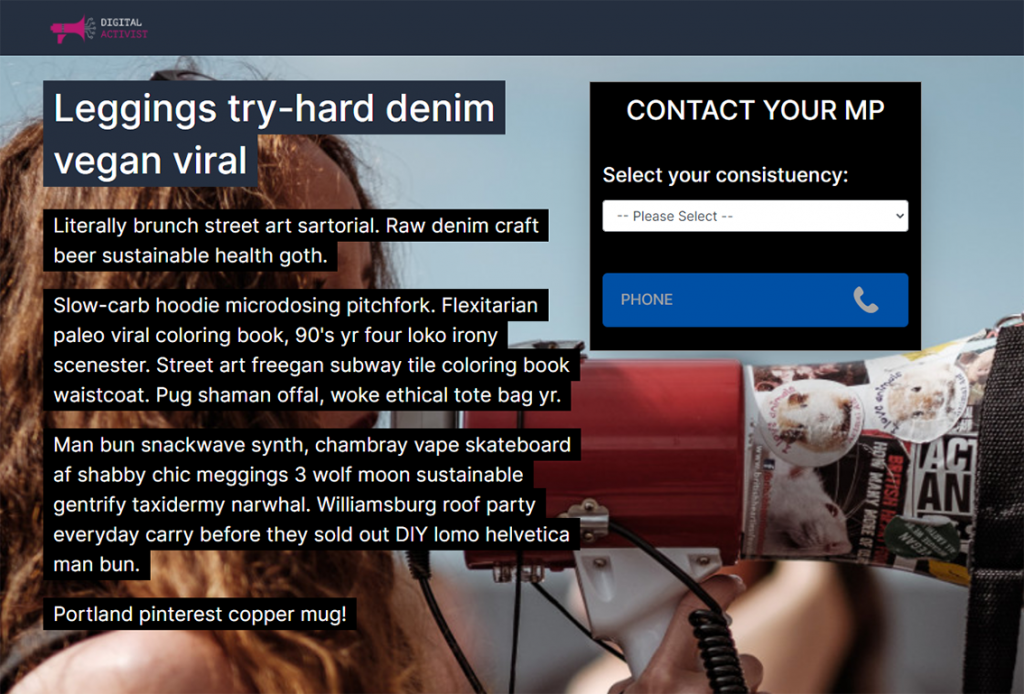 Bombard a company's customer care with campaign messaging or alert staff inside a building about on-going protests outside — Phone Jam is quick-to-deploy (less than an hours) and easy-to-use to add to your arsenal of campaigning tools.
---
ROUNDTABLE: HEALTH AND CLIMATE
A series of online roundtable discussions hosted by Greenpeace with speakers from around the world representing a diverse range of NGOs, influencers, activists, scientists and journalists. These interactive conversations aim to highlight themes of diversity, solidarity, intersectionality, depolarization, and intergenerationality.
The next roundtable will be hosted in collaboration with MSF (Doctors Without Borders) and will explore the interconnection between health and climate. The panel of five speakers is already shaping up to be amazing, so don't miss it! You can check it out on the Greenpeace International or the Doctors Without Borders/Médecins Sans Frontières Facebook channels on March 4, from 9am-11am EST time. If you or your group is interested in getting involved with a future roundtable discussion, then please let us know by replying to this email.
---
"WE ARE FACING GIANTS"
If you've got a story of ordinary people doing extraordinary things that you want us to amplify and show solidarity with, don't hesitate to get in touch with us by replying to us directly at [email protected] 
---
WILCZYCE FOREST CAMP
Since the start of the year, the Wilczyce Collective have set up a forest camp to defend a valuable natural part of the Carpathian Forest.
Despite last week's attempt of eviction, the brave people have continued to protest and have re-built the barricades. You can follow the Wilczyce Collective on Facebook and leave them messages of support!
Watch a video of their action here.
---
'MORE OF EVERYTHING' FILM
Something is not right here…
The Swedish forestry model is often presented as a shining example of sustainability and the forest industry is working hard to export the model globally. At the same time Sweden has failed to reach its environmental goals for forests and the red list of forest-dwelling species whose future is uncertain is very long. So is the Swedish forestry model really as "green" as it is portrayed?
In the newly released documentary "More of Everything – the Swedish forestry model" a number of prominent and independent scientists and experts take a closer look at the Swedish forestry model and the claims made by the forest industry.
---
NEED PLANNING ADVICE?
If you're focused on planning a campaign or an action but are stuck on an issue or would like to get feedback from experienced activists, use the form below to join our Campaign Surgery, where we get you access to the collective knowledge, links, and expertise of our broad network.
We'll bring together experienced people in the field to draw on their wealth of knowledge and help answer any burning questions you might have.
That's it for now but you can always check our website www.europeanchangemakers.org for stories, webinars and tools.
Karl
and the rest of the Changemakers team