April 2021: The Fossil Free Revolution, new skillshares, tackling Shell, and more
Hello Changemaker!
As April rolls around, several places in the world are seeing rising vaccination rates and the easing of lockdown restrictions. However, the global inequality in access to vaccines and recovery support is becoming increasingly clear. More than ever, the fight for global justice is central.
This month's newsletter highlights some of the people tackling the fossil fuel industry, gathering for global justice, and campaigning for the right to protest. We're also happy to announce another series of skillshares – focused on key debates in the climate movement. We hope this bulletin gives you a bit of inspiration in the fight for a greener, fairer, and freer world.
TACKLING FOSSIL FUEL ADVERTISING – WEDNESDAY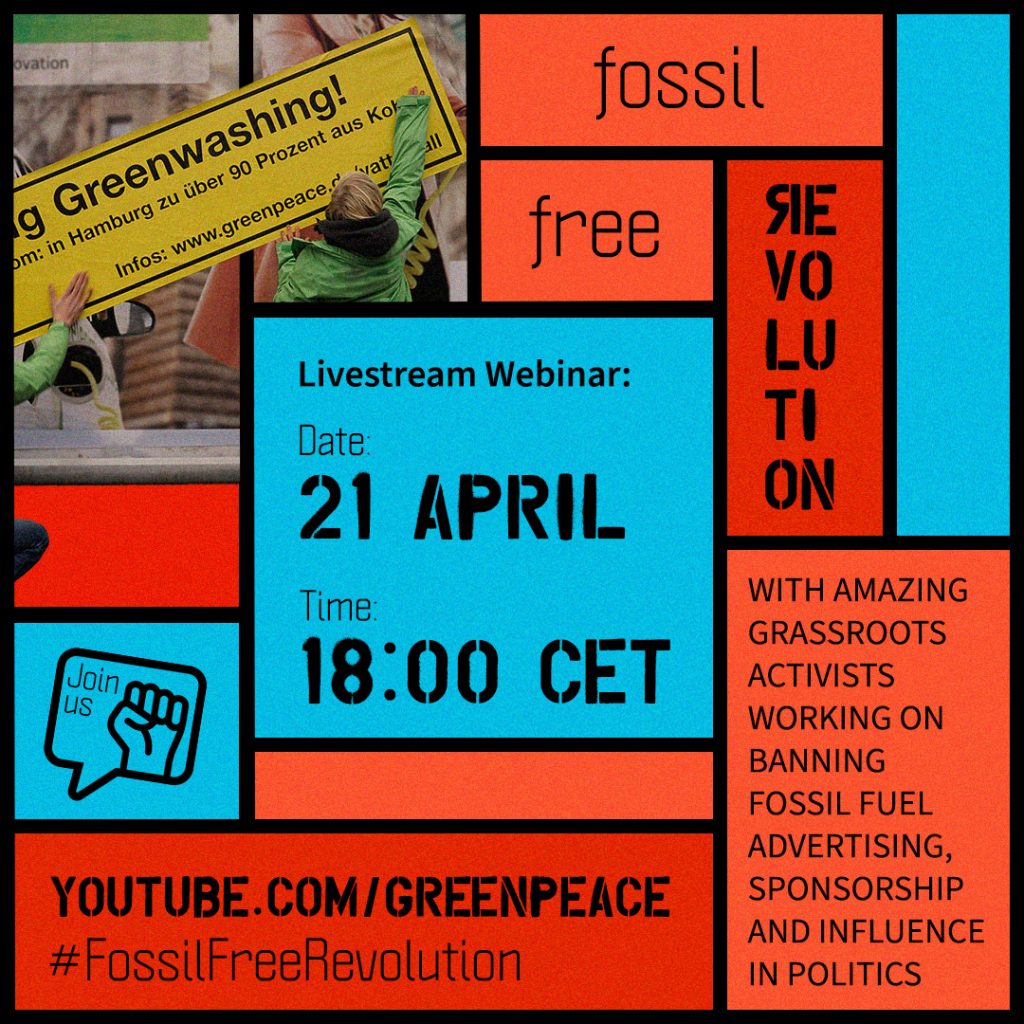 On Wednesday, April 21st at 18:00 CET, the Movement Hub is co-organising a live conversation on how to dismantle the fossil fuel industry's hold on advertising, sponsorship, and influence in politics.
If you're interested in how to toxify the fossil fuel industry's brand, you can watch live on the Greenpeace International Youtube Channel. Moderated by climate justice organiser and trainer Talissa (she/her), the event will see contributions from Teresa from Fossil Free Culture NL, Mattina (she/they) from BP or not BP?, and Noëlie (she/her) from the Gastivists Collective.
Let's inspire each other and fight for a #FossilFreeRevolution!
---
NEW SKILLSHARE SERIES: THE DEBATES RAGE ON
Informed and spirited debates help our movements grow! Join our upcoming skillshare series in April-May to get the tools helpful for the discussions activists constantly face. From how we make sure our narratives aren't co-opted by the racist Right, to what nonviolence actually means and the eternal system change vs individual change debate – The Movement Hub invites you to explore these topics in our co-creative skillshare sessions. Skillshares that we hope will leave you with more reflections and motivation to engage in these important debates!
This is the second series of many this year, aimed at giving you the tools to support your groups and campaigns moving forward. The Movement Hub does not claim to be experts in these topics – but instead works to create spaces where all participants' ideas and knowledge is shared and built upon.
---
HOLDING THE FOSSIL FUEL INDUSTRY TO ACCOUNT
Last month, we helped organise an amazing live-stream with speakers holding the fossil fuel industry to account. Samie from Black Earth Kollektiv, Teïssir Ghrab from Alternatiba, and Veronika from Limity Jsme My all spoke on the fight against the fossil fuel industry.
Don't worry if you missed it! You can watch the recording to hear from this amazing collection of frontline activists fighting for a #FossilFreeRevolution.
---
FEATURED STORY: HOW A YOUTH CLIMATE STRIKER IS CHANGING PROTEST LAW IN ROMANIA
If you've got a story of ordinary people doing extraordinary things that you want us to amplify and show solidarity with, don't hesitate to get in touch with us by replying to us directly at [email protected] 
---
FROM THE GROUND UP 2: TAKING ACTION
From the 22-25th April, the COP26 Coalition are hosting their second Global Gathering for Climate Justice. With 18 sessions dedicated to some of the key issues facing our movements today, the gathering will bring together ordinary people to discuss how to build a powerful, effective and inclusive climate justice movement.
---
SHELL MUST FALL – MAY 2021
Every May, the shareholders of Royal Dutch Shell have their Annual General Meeting (AGM). In response, Shell Must Fall, the campaign organised by CodeRood, is coming together again this year to make Shell history.
Are you sick of fossil fuel industry shareholders greenwashing and talking about maximising profits whilst destroying the climate? Well then, get involved with the Shell Must Fall campaign!
---
ENDE GELÄNDE – SUMMER ACTION ANNOUNCED
Today, it's more clear than ever that we need to keep fossil fuels like LNG (Liquid Natural Gas) – aka fossil gas – in the ground if we want to tackle the climate emergency. Despite this, in Brunsbüttel, Northern Germany, a LNG terminal is being constructed, aiming to import more gas into the country.
Ende Gelände have announced their summer action is aimed at preventing this terminal being constructed. 
Subscribe to their newsletter to find out more.
---
NEED HELP WITH ANYTHING?
If you're focused on planning a campaign or an action but are stuck on an issue or would like to get feedback from experienced activists, use the form below to join our Campaign Surgery, where we get you access to the collective knowledge, links, and expertise of our broad network.
We'll bring together experienced people in the field to draw on their wealth of knowledge and help answer any burning questions you might have.
---
That's it for now but you can always check our website www.themovementhub.org for stories, webinars and tools.
Karl and the rest of The Movement Hub